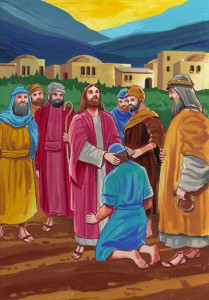 MY daily reflection and prayer:
Tuesday, July 7, 2015
Fourteenth Week in Ordinary Time
Dear my friends,
Here is the Gospel for us today according to Matthew 9:32-38
As they were going away, behold, a dumb demoniac was brought to him. And when the demon had been cast out, the dumb man spoke; and the crowds marveled, saying, "Never was anything like this seen in Israel." But the Pharisees said, "He casts out demons by the prince of demons."  And Jesus went about all the cities and villages, teaching in their synagogues and preaching the gospel of the kingdom, and healing every disease and every infirmity. When he saw the crowds, he had compassion for them, because they were harassed and helpless, like sheep without a shepherd. Then he said to his disciples, "The harvest is plentiful, but the laborers are few; pray therefore the Lord of the harvest to send out laborers into his harvest."
This is the Gospel of the Lord. Praise to you Lord Jesus Christ.
***
LET'S learn from the one who brings a dumb demoniac to Jesus as proclaimed in the Gospel today. He may be his family or his friend or his relative.
Something important to me is that whoever they are, they have a good intention to help someone who experiences chronic distress or even some incurable disease of mind and body.
They bring a dumb demoniac to Jesus with the hope that Jesus will set him free. They, no doubt, take pity on this man who has a double suffering. He has not only lost his ability to speak, but is also greatly disturbed in mind and spirit.
I imagine that he is in despair and hopeless. Jesus immediately sets him free from the demon and restores his ability to speak at the same time. Jesus grants him a double miracle that brings wonder to the crowds who watch in amazement, saying, "Nothing like this had ever been done before in the land of Israel!"
In the Perpetual Adoration of the Eucharist, we approach and worship Jesus Christ with expectant faith. We trust in him that he will set us free from whatever we're sufferred. We bring also every one needs our prayer before him whether it be a disease of mind and body, a cripling burden of guilt and sin, and uncontrolable fear of harm.
Let's pray: Lord Jesus Christ, you could do a double miracle to those who trust in you. You bring new life and freedom for us. Grant freedom to all who turn to you with trust. May we bring the good news of your saving grace and mercy to those around us who need your healing love and forgiveness now and forever. Amen.
Kredit foto: Ilustrasi (Ist)