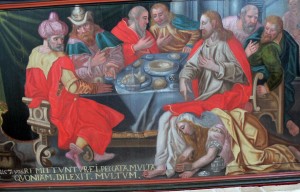 MY daily reflection and prayer: Monday, March 02, 2015
The Second Week of Lent
Dear my friends, here is the Gospel for us today according to St. Luke 6:36-38
Be merciful, even as your Father is merciful. "Judge not, and you will not be judged; condemn not, and you will not be condemned; forgive, and you will be forgiven; give, and it will be given to you; good measure, pressed down, shaken together, running over, will be put into your lap. For the measure you give will be the measure you get back."
This is the Gospel of the Lord. Praise to you Lord Jesus Christ.
***
Jesus teaches us today: Be merciful, even as your Father is merciful. How can we be merciful as Father in heaven? These are Jesus' advices: Judge not, condemn not; forgive and give.
What does it mean? We realize that many times we judge others too quickly even unfairly with mixed motives, impure hearts, and prejudiced minds. So Jesus says: judge not, condemn not! It means that our hearts must be cleansed first in order to discern right judgment with grace and mercy rather than with vengeance.
Grace and mercy make us to be true disciples of Jesus Christ. By grace we treat others not as they deserve, but as God wishes them to be treated with mercy and loving-kindness. Thanks to the Lord for we have God who shows his goodness to the unjust as well as to the just.
In Perpetual Adoration of the Eucharist we worship Jesus Christ and pray that we are poured with grace and mercy. So we are not easy to judge and condemn others. Our prayer in Adoration for those who do us ill both breaks the power of revenge and releases the power of love to do good in the face of evil.
So, let's pray: Lord Jesus Christ, grant us your mercy and pardon for ourselves and for those who need your mercy. Let we promptly forgive those who wrong us, and do not allow resentment and ill-will to grow in our hearts. Help and strength us to choose and to do what is right. Encourage us to turn away from whatever would lead us into hurtful and sinful desires now and forever. Amen
Photo credit: Ist