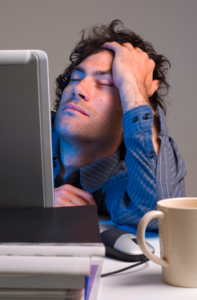 My daily reflection and prayer. Thursday, August 28, 2014:
Memorial of Saint Augustine, Bishop and Doctor of the Church
"Stay awake! For you do not know on which day your Lord will come." (Matthew 24:42)
What is the meaning of this word for us? In the perspective of Christian faith, life means to await Jesus' coming, His second coming.  So, we must enjoy our lives but in a fully consciousness that He will come at an hour we do not expect. We do not know on which the day He will come.
The Lord Jesus has promised to return again for our sake. The day when the Lord Jesus Christ returns will be joy and peace for those who are staying awake and prepared! On the contrary, it will be grief and loss for those who have neglected or lost their faith.
We never know when he will come. The best way to welcome Him is to stay awake and be prepared because Jesus has told us that His coming is like a thief in the night. Of course, there is no thief would announce his intention in advance, nor the time when he would strike! We must stay awake and be prepared to keep our treasure and our lives secure at all times
What is our treasure which the Lord Jesus wants us to guard lest we lose it? Firstly, it is the Kingdom of heaven which marked by righteousness, peace, and joy. Secondly, it is also our friendship with Jesus Christ, the Son of the living God. Thirdly, it is our faith in Him. Trust in Jesus Christ, the Lord is our treasure He has granted for us. We should keep it all for we can lose the Kingdom of heaven, our friendship with God and our faith as well.
Jesus Christ, the Lord describes Himself as the Master suddenly returns home unexpectedly, probably from a long journey. He will reward us if we are like the dutiful servant for his faithfulness to his master.
Let's stay awake and be prepared so that He may not punish us as the other servant who behaved wickedly. He is not only irresponsible but also frequently absent from work and spent his master's money by throwing endless parties with his friends. Even, he abuses his fellow workers with physical force and violence. To this servant, the master not only throws him out of his house, but he fires him from his job as well.
Here, we learn to stay awake and be prepared to welcoming Jesus' return. He will reward us as the faithful servant with honor, promotion, and friendship. In contrast, He will punish us as the unfaithful servant by removing us from our position and throwing us into the darkness prison.
Perpetual Adoration of the Eucharist is a way to stay awake and be prepared in watching the coming of Jesus among us. He dwells among us through the Blessed Sacrament of the Eucharist. Thanks to the Lord who has entrusted each of us with this gift and grace to love Him with faithfulness, trust, and obedience and to love our neighbor as yourself. By holding Perpetual Adoration, we stay awake and prepare in watching for His return so that we are ready to meet Him.
Let's pray: Lord Jesus Christ, You are our source of all truth, beauty, goodness, love and everlasting life. You have captured our heart. We offer it to You that we may have You alone as our treasure, peace and joy. Make us strong in faith, steadfast in hope, and generous in love that we may seek to please You in all things and bring You glory. Make our heart to stay awake and be prepared in welcoming You, now and forever. Amen.
Kebon Dalem Semarang
SALAM TIGA JARI: Persatuan Indonesia dalam Keragaman
Kredit foto: Ilustrasi (Courtesy of Proactive)