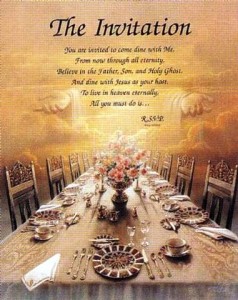 MY daily reflection and prayer: Thursday October 9, 2014
Dear all friends,
Here is the Gospel for us today, according to St. Luke 11:5-13.
Jesus said to his disciples: "Suppose one of you has a friend to whom he goes at midnight and says, 'Friend, lend me three loaves of bread, for a friend of mine has arrived at my house from a journey and I have nothing to offer him,' and he says in reply from within, 'Do not bother me; the door has already been locked and my children and I are already in bed. I cannot get up to give you anything.' I tell you, if he does not get up to give him the loaves because of their friendship, he will get up to give him whatever he needs because of his persistence.
"And I tell you, ask and you will receive; seek and you will find; knock and the door will be opened to you. For everyone who asks, receives; and the one who seeks, finds; and to the one who knocks, the door will be opened. What father among you would hand his son a snake when he asks for a fish? Or hand him a scorpion when he asks for an egg? If you then, who are wicked, know how to give good gifts to your children, how much more will the Father in heaven give the Holy Spirit to those who ask him?"
This is the Gospel of the Lord. Praise to You Lord Jesus Christ.
***
From the Gospel today, we learn about hospitality. Jesus teaches us an important lesson about how to treat others kindly and generously with care and understanding.
On the rule of hospitality Jesus tells about entertaining an unexpected or late-night guest. In the biblical perspective, whether the guest is hungry or not, a meal would be served.
At the times, bread is essential for a meal. Asking for bread from one's neighbor is both a common occurrence and an expected favor. To refuse to give bread would bring shame because it is a sign of in-hospitality.
The conclusion of the story is if a neighbor can be imposed upon and coerced into giving bread in the middle of the night, how much more hospitable is God. He is generous and ready to give us what we need all of the day and every day.
In Perpetual Adoration of the Eucharist, we also worship God who does not sleep. He gives us much more graciously what we ask for. How much more will the heavenly Father give! He gives us not only what we need, but more than we can expect. He gives freely of his Holy Spirit that we may share in His life and joy.
Let's pray: Lord Jesus Christ, You make us know the heavenly Father, who is merciful, gracious and kind for us. May we never doubt Your love nor hesitate to seek You with confidence in Perpetual Adoration in order to obtain the gifts, graces, and daily provision we need to live as Your disciples, now and forever. Amen.
Girli Kebon Dalem
»̶•̵̭̌•̵̭̌✽̤̈̊•Ɓέяќǎђ•Đǎlєm•✽̤̥̈̊•̵̭̌•̵̭̌«̶
"abdi Dalem palawija"
Majalah INSPIRASI, Lentera yang Membebaskan
Komisi Hubungan Antaragama dan Kepercayaan Keuskupan Agung Semarang
Photo credit: Ilustrated