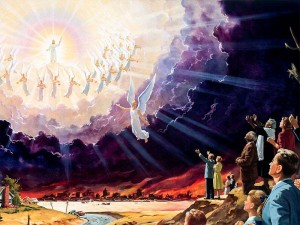 MY  daily reflection and prayer: Tuesday, November 28, 2014
Dear my friends,
Here is the Gospel for us today according to St. Luke 21:29-33
Jesus told his disciples a parable. "Consider the fig tree and all the other trees. When their buds burst open, you see for yourselves and know that summer is now near; in the same way, when you see these things happening, know that the Kingdom of God is near. Amen, I say to you, this generation will not pass away until all these things have taken place. Heaven and earth will pass away, but my words will not pass away."
This is the Gospel of the Lord. Praise to You Lord Jesus Christ.
***
Today Jesus teaches us as His disciples an important lesson about reading the "signs of the times" based on the image of a fig tree. The fig tree is a common and important source of food for the Jews. It bears fruit twice a year, in the autumn and in the early spring. The early signs of a changing season, such as springtime, summer, or autumn, are evident for all who can see and observe the changes.
Learn from the natural signs, we must know the signs of God's kingdom and His return in glory on the day of judgment. We do not know the day nor the hour when the Lord Jesus Christ will return again in glory. But He gives us signs, not only to wake us up as a warning, but also to rouse our spirits to be ready to receive His coming in all His power and glory. According to Jesus, the Day of the Lord will strike terror in those who have ignored or rejected God. But it will be a day of joy and rejoicing for us who long to see the Lord face-to-face.
In Perpetual Adoration of the Eucharist, we prepare ourselves to welcome Jesus' Christ who will return for us. There, we see Him face-to-face in the Blessed Sacrament for He comes daily and frequently to us who long for Him. He shows us the way to our heavenly Father and gives us the hope of eternal life.
Let's pray: Lord Jesus Christ, You are the beginning and the end of all history. Give us joyful hope and assurance that we will see You face-to-face and be united with You when you return in glory, forever and ever. Amen.
Photo credit: Ilustrasi