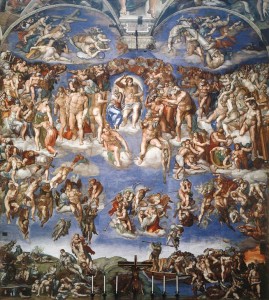 MY daily reflection and prayer: Tuesday, November 25, 2014
Dear my friends,
Here is the Gospel for us today according to St. Luke 21:5-11
While some people were speaking about how the temple was adorned with costly stones and votive offerings, Jesus said, "All that you see here– the days will come when there will not be left a stone upon another stone that will not be thrown down."
Then they asked him, "Teacher, when will this happen? And what sign will there be when all these things are about to happen?" He answered, "See that you not be deceived, for many will come in my name, saying, 'I am he,' and 'The time has come.' Do not follow them! When you hear of wars and insurrections, do not be terrified; for such things must happen first, but it will not immediately be the end." Then he said to them, "Nation will rise against nation, and kingdom against kingdom. There will be powerful earthquakes, famines, and plagues from place to place; and awesome sights and mighty signs will come from the sky."
This is the Gospel of the Lord. Praise to You Lord Jesus Christ.
***
Jesus prophesies about (the temple of) Jerusalem, "All that you see here, the days will come when there will not be left a stone upon another stone that will not be thrown down." How will you respond if someone prophesies that your place of worship will be destroyed?
The Jewish people is so pride of their temple, a marvel of the ancient world. The foretelling of this destruction is a dire warning of spiritual judgment in itself. Jesus admonishes them to pray for God's intervention of grace and mercy.
Jesus also describes of the last days when God's anointed King will return to usher in the full reign of God over the earth. In that day when the Lord returns there will be a final judgment of the living and the dead when the secrets of every heart will be brought to light (Luke 12:2-3; Romans 2:16).
We must recognize the signs of God's judgment, mercy, and grace to save us. Jesus reminds us that a future judgment and outcome awaits every of us. The reward for doing what is right and pleasing to God and the penalty for sinful rebellion and rejection of God are not always experienced in this present life. We must realize and prepare it well since now every day.
In Perpetual Adoration of the Eucharist, to some extent, we learn to anticipate of His final judgment. Jesus extends grace and mercy to all who will heed His call and His warning. Let's not pass up, even for one day, His invitation of grace and mercy is to seek first His kingdom of righteousness and peace.
Let's pray: Lord Jesus Christ, Your grace and mercy abounds even in the midst of trails and difficulties. Help us to seek Your kingdom first and to reject whatever would hinder us from pursuing Your way of righteousness and holiness. Fill us with the joy and hope of Your everlasting kingdom, now and forever. Amen.