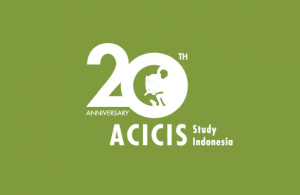 A three-day weekend of alumni and partner organization catch-ups, networking and conference-style sessions.
Details: Celebration & Reunion
Dates: 28-30 August 2015
Location: Yogyakarta, Central Java
Venues: (TBC)
Ticket Price: See here for details
Event Registration: Online Registration and Payment
Click here for an early version of the program for the three-day weekend event in Yogyakarta.
Canberra: Evening Cocktail Function at Parliament House
An evening cocktail function at Parliament House for alumni, supporters and partner organisation representatives.
Details: Evening Cocktail Function
Date: Tuesday, 13 October 2015
Location: Parliament House, Canberra
Venue: Mural Hall
Time: 18:00 – 20:00
Ticket Price: $48.50 (standard), $32.00 (student concession)
Event Registration: Online Registration and Payment
Melbourne: Evening Cocktail Event
ACICIS, in association with the Australia-Indonesia Youth Association (AIYA) – Victoria Chapter, held a 20th anniversary event at the Sidney Myer Asia Centre on the 1st July.
Ms. Grace Dong (Sem 39), Dr. Dave McRae (Sem 6) and President of AIYA Victoria, Mr. Daniel Brooks, gave speeches on the significance of ACICIS on a personal level, and to the Australia-Indonesia relationship more broadly.
Consortium Director, Professor David T. Hill, who was in Melbourne to present on ACICIS at the Indonesia Council Open Conference, also gave a presentation and cut a special anniversary cake.
Finally, guests were treated to a wonderful performance by Melbourne folk musician, Ayleen O'Hanlon (Sem 25).
We would like to thank AIYA Victoria for assistance organising the event, and The University of Melbourne and Asialink, for the in-kind support they kindly provided.
We had a great evening, and now can't wait for our events in Canberra and Yogyakarta.
Source and link: http://www.acicis.edu.au/20th-anniversary/events/