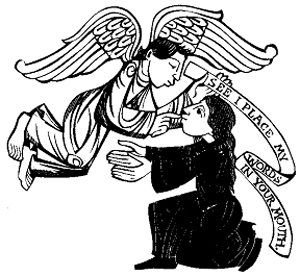 MY daily reflection and prayer: Friday, September 19, 2014
Dear my friends,
Here is the Gospel for us today, according to St. Luke 8:1-3.
Jesus journeyed from one town and village to another, preaching and proclaiming the good news of the Kingdom of God. Accompanying him were the twelve and some women who had been cured of evil spirits and infirmities, Mary, called Magdalene, from whom seven demons had gone out,
Joanna, the wife of Herod's steward Chuza, Susanna, and many others who provided for them out of their resources.
***
Let's start this consideration with the questions: What have we offered to support Jesus' work in proclaiming the Kingdom of God? How do we implement it? Are we ready to serve the Lord Jesus and to support the work of the Gospel with our personal resources?
We can answer the questions according to our experiences as far as we have done it. From the Gospel proclaimed to us today we read that a band of women accompanied Jesus and the twelve apostles during His three years of public ministry.
There were some kinds of women supporting Him. Some of them were the rich and prominent families like Susanna and Joanna. Joanna was the wife of Herod's steward Chuza. She was a wealthy lady of the court. Some were prostitutes as Maria Magdalene. She had lived a very troubled life before Jesus freed her from seven demons. Some others have been afflicted with mental and physical infirmities. They served Jesus out of their own resources
First of all, Jesus had transformed them. Then, He had touched them so deeply. It's why they were grateful to do anything for Him, even financial support.
Let's we learn from the women who serve and support Jesus in proclaiming the Gospel. Let's we serve Him generously with our personal resources as far as we can. We realize that we always want to be served and placed first. We then tend to avoid giving too much of ourselves to the service of others.
In Perpetual Adoration of the Eucharist we learn to take the lowly place of a servant who puts the needs of others before our own needs. As Jesus comes not to be served but to serve and to give His life as a ransom for us, we are invited to do the same for Him and others with humility, selfless love, generosity, joy, and a willingness. Yes it's right that Jesus needs no one, He chooses to entrust His work through each one of us to support His works.
Let's pray: Lord Jesus Christ, set our heart on fire for You that we may give freely of the gifts, talents, and resources You give us, for Your sake and for the work of the Gospel, forever and ever. Amen.
Goa Maria Mojosongo
»̶•̵̭̌•̵̭̌✽̤̈̊•Ɓέяќǎђ•Đǎlєm•✽̤̥̈̊•̵̭̌•̵̭̌«̶
"abdi Dalem palawija"
Majalah INSPIRASI, Lentera yang Membebaskan
Komisi Hubungan Antaragama dan Kepercayaan Keuskupan Agung Semarang
Photo credit: Ilustrated (Saint Francis Parish Church)